Are you ready to make more money in less time by working with the right clients?
Design and start implementing your six-figure year with the support and accountability you need.
You know you need systems, strategies, and the marketing tools to scale as a service provider, but you can't seem to unlock the missing pieces.
You know you have all the potential because clients love your work, but you can't seem to break out of making the same amount as a freelancer every single month.
You know you want your business to allow you to live a great life, but somehow you end up working way too many hours for too little in return.
Can you imagine what it would feel like if 2021 was your first six figure year as a freelancer?
How would your life and business be different? What would you be able to accomplish that has been on the back burner for too long? How could you upgrade your life and your family's life?
What would happen? Let me ask my crystal ball…
You'd wake up excited each day about who you're working with and what you're working on.
You'd have several great clients at the same time and would know how to adapt if any of them tried to cross boundaries
You'd have a reliable marketing system where you could turn up the heat any time you wanted.
You'd take time off without having to worry about everything falling apart.
You'd jump on and off sales calls with confidence, easily closing deals because your packages and offerings are irresistible.
Not only is all this possible, but I created a course to help you do it.
Introducing The Advanced Freelance Roadmap™
Your guided route to a six figure service business your way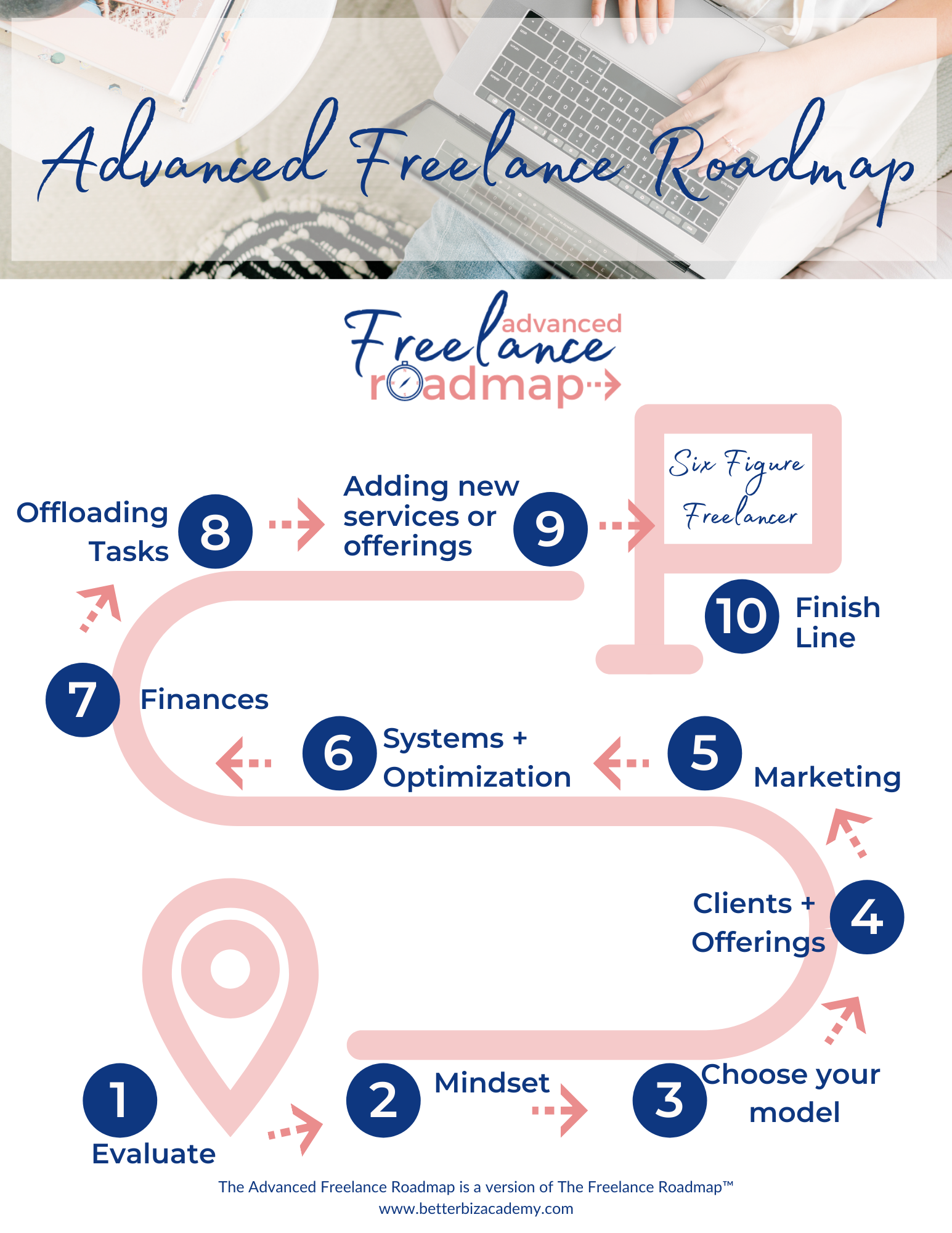 The Advanced Freelance Roadmap is the first course of its kind that not only teaches you the successful strategies, systems, and habits of six figure freelancers, but helps you define the unique approach to how you'll get and stay there.
This course and group coaching program will teach you how to:
Set the right goals so that you grow your service-based business based on past performance and your potential in the market
Uplevel your mindset by uncovering your limiting beliefs and reframing them
Create and outline your starting point and your goals to scale your business fast so that you can allow your business to align with your life, not the other way around
Define the right people to work with so you don't have any more red flag clients draining your time, energy, and creativity.
Identify the packages, pricing, and positioning that get dream clients excited about working with you so that you can sign them quickly.
Master your finances and align your business for growth
Set rates you love for the clients who will pay them (and, better yet, a plan to raise and scale those prices over time.)
Build the systems and shortcuts to scale your own way so that you can work less than 40 hours a week while still achieving your big financial goals
Here's What's Inside
2 bonus kickstart modules to help you master your mindset and determine what you need to focus on the most in your six-figure freelancer journey. (Available Dec. 1)
4 modules aligned with the key stops on The Advanced Freelance Roadmap™ released on January 1st with one new module each Friday

Weekly homework assignments with the opportunity to have your homework reviewed by Laura

6 weeks of live coaching calls to brainstorm, implement the homework, and get feedback on your business from Laura starting January 1st
Weekly marketing challenges to help you get your name and business out there
Private Facebook popup group to share your wins and get quick answers (Group opens on December 1.)
I'm ready now, Laura! Take me to the signup page 'cuz 2021 is my year!
Bonus Content:
Bonus: Black Friday ONLY- get a 30-minute coaching call with Laura to kick off your enrollment and discuss the most important elements of the Advanced Freelance Roadmap for you! (Value $97)
Are you ready to uplevel your business and scale your business without putting in more and more hours? Get these bonuses when you enroll before January 1 st:
The Advanced Freelance Roadmap™ Course & Six Weeks of Coaching with Laura ($1,997 value)
One live 2021 goal-setting workshop on Friday, December 4th with Laura ($97 Value)
Sales Call Bootcamp Workshop ($197 value)
Cold Pitch Masterclass ($197 value)
LinkedIn for Freelancers ($297 value)
How to Hire and Train Your First VA Toolkit ($197 value)
The Freelance Follow Up Formula Toolkit ($97 value)
When you add all that up, it's worth over $3,000, but you can enroll by midnight EST on Cyber Monday to get in for $697 or two payments of $350.00
Ready to Meet Your Six Figure Freelancing guide?
If we haven't already met, I'm Laura. And seven years ago, I was where you're at now. I had just been fired from my day job and suddenly had to scale my freelance business. I'd ben making over $3,000 a month for several months at that time, but wasn't sure I'd be able to keep it up or scale it once I went full-time. And with a husband in medical school and massive student loan debt myself, I had to place my biggest bet ever: I bet on me.
Here's the thing…I'm really not that special. I used to teach 7th grade geography. I was horrible at classroom management and struggled every day in that job. After that, I sold annuities in a life insurance brokerage (and that's the job I got fired from…)
That was in 2013. It's when I made the commitment to create a six figure business from home that would travel with me through my husband's many U.S. Navy duty stations. And that six figure marker is one I've hit every year since…

Yes, even the year I spent studying for my PhD qualifying exams for over 300 hours. (2014)
Yes, even the year we had a five-month legal battle with a landlord who was breaking the law and violating our privacy nearly every day. (2017)
Yes, even the year I had to take over two months off to help a loved one adjust to life after the death of their spouse. (2019.)
Yes, even the year I had a full-time commitment during the day and we went through a world-changing pandemic. (2020)
Yes, even the years I was on book deadline. (2018 & 2020.)
That's what is so great about freelancing: you can scale it up or down based on what you need, but you don't have to give up making a good living.
How Do I Know if Is This For Me?
The Advanced Freelance Roadmap course is perfect for you if:

You're so ready to scale but you're not sure what to work on first.
You've been freelancing for a while but are stuck on how you can scale this so you can make more money or quit your day job
You think you've been undercharging but aren't sure where you're missing the mark with positioning yourself
You're spinning your wheels daily working with the wrong clients for too little money, logging over 50 hours a week
You don't feel comfortable raising your rates with existing clients or laying down boundaries with clients who push your buttons, pay late, or engage in scope creep
You know you still need to market, but are struggling to fit that into your schedule with lots of client work
You'd like accountability and support from a coach and other freelancers on a similar journey
One in five full time freelancers is already making six figures: what are you waiting for? Don't wait another year.
You Have Questions. I Have Answers.
Why now? The biggest regret I have in my freelance business is that I wish I'd scaled sooner. What exactly was I holding myself back from? Nothing, really. And it really would have helped while I was in grad school making $1100/month as a teaching assistant! Freelancing is already poised to take on the economy and workforce in big numbers- those who invest in themselves now will be able to grow faster and remain more competitive. (Just ask existing six-figure freelancers, many of whom were able to pivot in 2020 when COVID shook everything up. Many of them remained stable or grew during this time because they'd already built the marketing and systems they needed.)
How do I know if I'm ready? Do you have the time to commit a few hours a week to learning and implement? Are you ready to ask questions? Are you ready to make 2021 your year? Then you're ready. If you're all about excuses and don't want to market yourself, then this course isn't for you.
Why don't you offer a refund? I do not offer refunds on any of my coaching and digital programs. Here's why: they work if you do the work. So show up and do the work. Leverage my feedback like the 47 freelancers I've coached in the past year!
What if I can't attend live? All classes will be recorded and uploaded right here in Teachable. This isn't a course where you can disappear, though. You'll want to plan to be active in Facebook and when turning in your homework. You will 10x your results by doing these two things. Remember, I'm a former teacher: I love cheering people to the finish line.
Does this only work for (Insert Service Provider Type here)? No. Creative and technical freelancers who work with clients online will benefit from this course. That means writers, developers, virtual assistants, online business managers, editors, ad managers, digital marketing experts, and more.
Learn More From Laura's Clients
"This course gave me the roadmap that I needed to get over the hump of being stuck making $5-6,000 a month. Laura addressed the mindset issues that were holding me back from earning more money. I gained the confidence to establish boundaries, eliminate clients that I could not grow with, and create multiple revenue streams. Within a month I have created new offerings and already have a waiting list! I highly recommend this course!"
Melissa - Director of Operations
"I've purchased many courses and coaching packages and while they've all helped in some way, one-on-one coaching with Laura is the best investment I've made in my business to date. Laura doesn't coach her clients into a box or push a "proven method". Instead, she listens and uses her expertise to guide you on what's best for your business. If you want to unlock your full potential as a freelancer, Laura will show you that YOU have the key and teach you how to use it."
- Alyssa G.
Your Instructor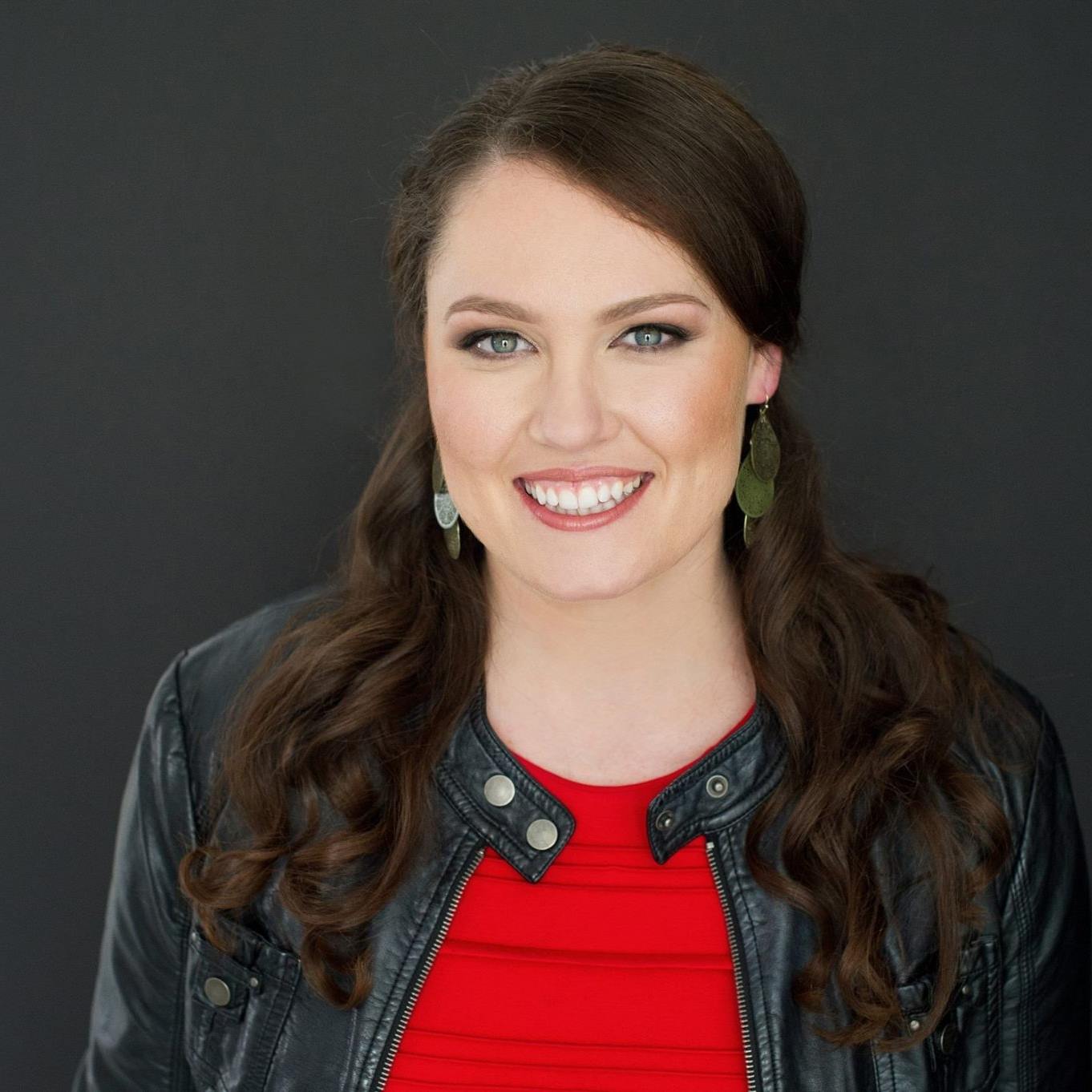 Laura launched her freelance writing business in 2012 with no formal training and scaled it to six figures in just 18 months. Since 2013, she's worked full-time as a freelance writer online. Today, she manages her freelance writing business in the mornings and coaches other freelancers in the afternoon. A digital nomad with a passion for freedom-based careers, Laura uses her skillset to help freelancers build a tailored plan for their success.
Course Curriculum
Introduction
Available in days
days after you enroll
Kickstart Modules: Starting Point & Master Your Mindset
Available in days
days after you enroll
Module 1 Finding Your Launch Point
Available in days
days after you enroll
Frequently Asked Questions
When does the course start and finish?
The course starts now and never ends! It is a completely self-paced online course - you decide when you start and when you finish.
How long do I have access to the course?
How does lifetime access sound? After enrolling, you have unlimited access to this course for as long as you like - across any and all devices you own.
What if I am unhappy with the course?
We would never want you to be unhappy! If you are unsatisfied with your purchase, contact us in the first 30 days and we will give you a full refund.