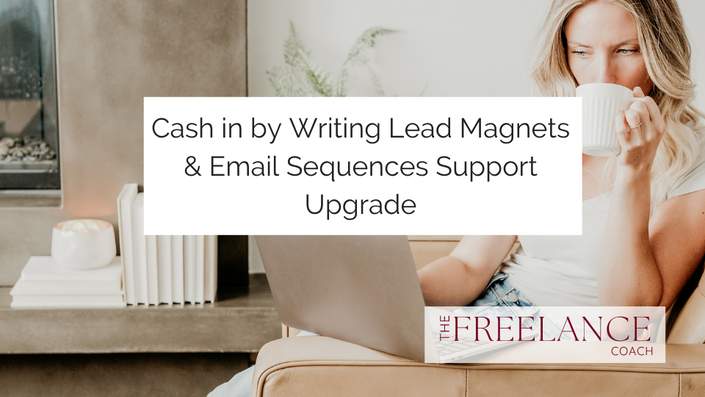 Cash in by Writing Lead Magnets & Email Sequences as a Freelancer
Everything you need to know to write, pitch, and sell winning lead magnets and sequences to clients as a freelance writer
Enroll in Course
Learn the skills, strategies, and tools you need to confidently create & sell lead magnets and email sequences to your freelance writing clients.
There are so many mistakes I see freelance writers make when they try to branch out in this space.
Some assume it will take them years to do it learning the hard way so they don't get started at all.
Others believe it's the same as writing blog articles or website content and miss the mark with their first few clients, giving up shortly after.
Other writers dive into learning everything they can from 20 different sources, getting stuck in analysis paralysis and never confidently pulling together a package or pricing for this service.
How would your business be different if you could….
Confidently respond, "Yes, I can help with that!" on a call with a current client who has a poorly-converting email sequence and needs support.
Lead a sales call with a client who isn't using a lead magnet or email at all and get them to sign your contract the same day.
Know how to audit, fix, and tweak lead magnets and email sequences so your clients get better results.
Consider building your own email list and using the same exact skills to attract & grow your own audience to sell books, courses, or coaching
Introducing Cash in By Writing Lead Magnets & Email Sequences
The step-by-step process to making more money as a freelance writer by creating freebies and the email sequences that follow them.
What makes Cash In by Writing Lead Magnets different?
This is the first course of its kind that not only teaches you how to brainstorm and write lead magnets for clients, but also teaches you how to write winning and highly converting email sequences.
Whether you have clients in the product or service space, you'll be able to help them more immediately connect with their customers in a compelling and brand specific way.
By the end of this program, you'll be able to
Discover the different types of lead magnets you can create for clients and how to align them with where their customers are at in the final
Discover how to create compelling email sequences that form an immediate know, like, and trust relationship with readers
Find the right clients and set them up for success by offering these packages
Grow your freelance writing business by incorporating this new service
Price your packages to convert clients into these projects
What's in the course, Laura?
Module 1: Funnels for Clients with Nurture Sequences
Lesson: Funnel Basics - Funnels 101 and Opt In Funnels
Lesson: Funnels for Products What are they selling? How soon? When will their audience be "ready"? How to set client expectations.
Lesson: Funnels for Services
Lesson: Funnels For Engagement/Bloggers/Readers
Lesson: Pricing Funnel or Opt In Packages for Clients
Releases March 5th
Module 2: Creating a Lead Magnet 101
Lesson: What is a Lead Magnet?
Lesson: How to Create a Great LM & Mistakes to Avoid
Lesson: Great LM Examples
Lesson: How to Deal with Graphic Design
Handout: 15 ideas for lead magnets you can use to choose for your clients
Module 3: Writing a Nurture Sequence

Lesson: What is a Nurture Sequence?
Lesson: Mistakes to Avoid
Lesson: Examples of Nurture Sequences for Products
Lesson: Examples of Nurture Sequences for Services
Lesson: Examples of Nurture Sequences for Engagement
Module 4: Selling Nurture Sequences

Lesson: How to Pitch & Stats Backing You Up
Lesson: Brainstorming with Clients on Topics
Lesson: How to Price Your Opt In Sequence
Lesson: How to Avoid Common Pitfalls with Clients
Bonus Module: Digital Marketing Strategy Tips for Writing & Selling Nurture Sequences

Lesson: Tools to Create Visual Funnels for Clients to Get Buy-In
Lesson: Landing Pages & Email Tech Your Clients Might Ask About
Lesson: How to Onboard ClientsEeasily
Training: Copywriting for Landing Pages & Ads (Value $97)
Training: Selling Case Studies to Clients: How to Price, Sell, and Write Great Case Studies (Value $197)
Use the comments section of each lesson to leave wins, comments, or questions! I will respond.
Hear from my students...
"This course gave me everything I needed to start confidently selling lead magnets and email sequences to clients. The information on email funnels makes a complex subject super easy to grasp! Before I even finished the course, I secured a client for $2900 and have been heavily referring back to the course for guidance as I'm working on the deliverables. Sooo worth the investment!"
I can't wait to meet you inside this course.

Just a few years ago, I was looking for ways to expand my freelance writing business when a client of mine asked if I'd ever created a funnel before.
Generating a lead magnet and the email sequence that follows it is a very basic sales funnel, and it has become increasingly popular in the world of copywriting. I decided that I needed to learn this skill for my own course and coaching business, too, so I dove right in.
This course is the result of years of work providing lead magnets and email sequences for freelance writing clients and crafting them on my own.
7 Ways to Know This Course is Right For You
You're a consumer of lead magnets yourself- do Facebook ads and landing pages often get you to give up your email (so you know what attracts and converts readers already)
You love reading email newsletters and learning about new things
You already know the basics of running a freelance writing business, but are looking to pick up a new skill to make you even more marketable and profitable ('cuz you can sell these lead magnets and opt in sequences like hotcakes to other clients, including blogging, article, and website copy clients!)
You're looking for the copywriting fast track to figure out the tips and tricks to make these winning packages that get results for your clients…. But you don't want to spend a year learning it yourself with Dr. Google.
You love writing and figuring out new puzzles for clients and want to become more confident in your overall digital marketing and writing knowledge.
You want more variety in your business with your freelance writing offers or you're looking to make a pivot away from one that's got you bored or frustrated.
You're obsessed with human psychology and always interested in discovering more about what makes people act vs. stay stuck.
If you've made it this far, you already know that diversifying your freelance writing business is one of the most powerful things you can do.
As a bonus, you're able to not only use the skills to sell lead magnet funnels to clients, but you can use this exact same strategy to create your very own digital products and sell it to your audience.
But Laura…
I can't afford this right now.
Okay, if you really can't afford it, don't buy it. This course will be open in the future, just not at this price. But there's a key difference between not being able to afford it and being scared to spend money. You're a business owner. This course is tax-deductible for you in the U.S. (It's a business expense for a freelance writing business you've already established.)
Do I really need to spend money on something like this?
Honestly, no. You can do what I did and read 24 books on copywriting and email writing and spend a few years doing this for yourself and for clients. The reason for you to invest in this course is because you want to bypass all that and quit spinning your wheels saying "well, maybe someday." Because if 2020 showed us anything, it's that you need to be seriously ready to adapt, pivot, and crush online business strategies with the best of 'em. This course will help you do that a heck of a lot faster.
I'm too busy to do this right now.
Cool, I get it. I once bought a Facebook Ads course that I waited 11 months to dive into, and then I finally dug in and learned a massive amount in just a few days. This course will always be here for you- you'll score lifetime access and any future updates by enrolling. But seriously- don't forget that this course is on your radar. I want you to get results!
I'm not sure I'm at the right level yet to do this.
Have you worked with at least three freelance writing clients already? Then you're ready.
Are you signed up to newsletters where people sell things or are willing to do so to watch how they do it? Then you're ready.
How much time is this going to take out of my schedule?
Here's a pro tip: if you're serious about this course, I want you to figure out, right now, where this could fit in your schedule. I want you to set aside 5 hours to go through course materials minimum. Another 5-8 hours to create your same lead magnet and sample sequence. And two hours to make revisions based on my feedback. That's it. You might spend more time analyzing email newsletters as a new connoisseur of lead magnets and email sequences, but this is not one of those "There are 57 hours of video in this course that you'll never have time to watch" courses.
Your Instructor
Laura is a teacher turned entrepreneur, freelance writer, speaker, and author. Her first two books, How to Start Your Own Freelance Writing Business and The Six Figure Freelancer, were published by Entrepreneur Press.
Course Curriculum
Module 1: Funnels for Clients with Nurture Sequences
Available in days
days after you enroll
Module 3: Writing a Nurture Sequence
Available in days
days after you enroll
Frequently Asked Questions
When does the course start and finish?
The course starts now and never ends! It is a completely self-paced online course - you decide when you start and when you finish.
How long do I have access to the course?
How does lifetime access sound? After enrolling, you have unlimited access to this course for as long as you like - across any and all devices you own.
Will I get support from Laura?
You can leave questions as comments in the course. You also get FREE review of your sample lead magnet and opt in sequence from me so you know you're pitching with solid examples.
I'm ready, Laura! Take me inside! Click below to enroll.